Our Facilities
---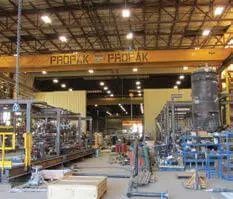 MODULAR ASSEMBLY SHOPS
Propak's 404 and 925 Shops specialize in pipe spooling and module assembly. The skilled fabrication workforce includes a wide variety of construction trades: welders, pipefitters, millwrights, insulators, crane operators, instrumentation technicians, electricians, painters and general laborers. Having these trades on staff allows Propak to ensure the complete module assembly is constructed in a safe manner and adheres to strict quality requirements and client specifications.
With a combined approximately 250,000 sq ft shop capacity, the majority of Propak's modular assembly work is completed indoors in a controlled shop environment with available overhead cranes.
---
LARGE & SMALL PRESSURE VESSEL MANUFACTURING PLANTS
The 505 Shop specializes in manufacturing large pressure vessels, exchangers, air coolers and other oil and gas processing equipment. This shop also houses Propak's CNC Plasma steel plate cutting table utilized in manufacturing a variety of custom pressure vessel and structural steel components.
The 405 Shop specializes in fabrication of small size pressure vessels for compressor packages and other energy applications.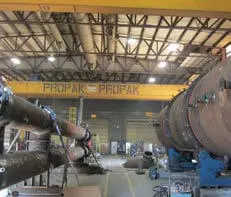 ---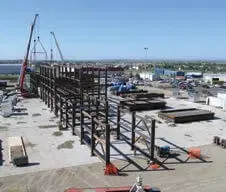 MODULAR ASSEMBLY AND TRIAL FITTING YARDS
Both the 404 and 925 Assembly Shop are situated with adjacent outdoor yard space. This outdoor yard space totals approximately 65 acres and includes large flat concrete pads used for accurate trial fit-ups of pipe rack and equipment modules.
With Propak's available yard space, completed modules are often staged for transportation to site in convoys to facilitate efficient setting and field installation.
---
STRUCTURAL STEEL SHOP
The 226 Shop specializes in structural steel fabrication. This includes the structural steel members required for Propak's standard and custom modular skids as well as pipe racks and site erected rigid framed buildings. Steel is cut utilizing a Robotic CNC Plasma steel beam cutter increasing productivity and efficiency.
The 226 Shop is located adjacent to the 404 Assembly Shop allowing for easy transfer of completed structural skids and steel components for modular assembly.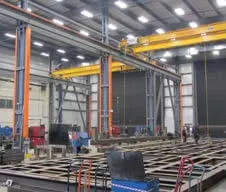 ---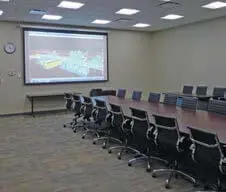 ENGINEERING OFFICE FACILITIES
Propak's main office staff buildings are the 440 and 925 buildings housing the Gas Processing, Compression & Power, and Heavy Oil Business Units. Propak's engineering, drafting, and procurement office facilities are located in close proximity to fabrication and assembly shops allowing for effective communication and teamwork throughout the project.
With Propak's office facility capacity, Propak is equipped to handle a multitude of projects ranging from single process packages to large energy processing plants.
---
CONTROL SIMULATION ROOM
Propak's 925 building houses a Control Simulation Room which is used for performing facility control system program simulations. As this is located in an engineering office, multi-disciplinary support is available during Factory Acceptance Testing.
This room can be set up to mimic a client's site control room providing a useful resource for program testing and operator training.
---